TOEFL COACHING IN RAJAJINAGAR
ARE YOU SEARCHING FOR THE BEST TOEFL COACHING IN RAJAJINAGAR (BANGALORE)?
If you dream, you can surely attain great heights. But the basic mantra to follow is hard work and perseverance. There are many individuals who dream of getting a high score of 100 and above in the English Proficiency test of TOEFL. We at REKNOWN EDU SERVICES®, Provide the Best TOEFL coaching in Rajajinagar, and we also provide the Best TOEFL coaching in Bangalore. help our students to accomplish this by building upon their strengths and working on their weaknesses. Check out our TOEFL COACHING IN RAJAJINAGAR REVIEWS on GOOGLE | FACEBOOK | JUST DIAL | SULEKHA 
SELF PREP SUGGESTIONS:
They watch online programs, listen to music and speak to their acquaintances in English to improve their communication skills.
The candidates interact with people who have already experienced the test and work upon the suggestions that they put forward.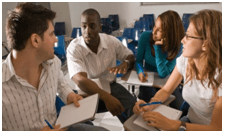 Others plan their preparation in detail and try to gain as much information on the different Modules. Such as READING, WRITING, SPEAKING, and LISTENING by going through a lot of resources about TOEFL.
Though all these methods can procure some knowledge, other things are required to deal with questions posed on the D-day. A candidate cannot secure his or her desired scores without professional intervention. They must understand the skills and techniques by which they can answer the most difficult of questions. This will broaden their horizons in the sphere of communication and help them achieve desired score in the TOEFL Test.
It is better to look for an Institution which can work alongside the candidate and work in their problem areas. At REKNOWN EDU SERVICES, Rajajinagar, Bangalore we are determined to cater to the candidate's needs and work on their weaknesses. This would further boost their self-confidence.
The approach towards making the students understand each module with the help of practical examples aids the students to analyze and visualize the situation in an effective manner, wherein the margin of errors decrease each and every day. The students are kept informed of their steady progress and the areas that they need to work upon.
A STUDENT'S STORY FROM THE INITIAL STRUGGLE TO SUCCESS:
Parth was advised about our TOEFL Coaching in Rajajinagar by his friend. He was apprehensive at first, but after experiencing our Free Demo Sessions he realized he was at the best place.
As could be judged by the trainer, Parth was fine with the Reading, Listening and Speaking Modules, but there was a lot of work to be done with respect to the Writing Module. He was surely a candidate deserving a 75 and above but could do much better if the small hitches observed in his writing were removed.
Since it was a System Based Test, the trainer provided Parth with all the details to augment his performance. It was surely a matter of great pride when he scored a 98 on his test.
Rightly said, "The finest teachers explain you where to look, but definitely not tell you what to look for". We pledge to make our student's desire our goals and continuously strive to be the best to impart knowledge.