MS in Embedded Systems in Germany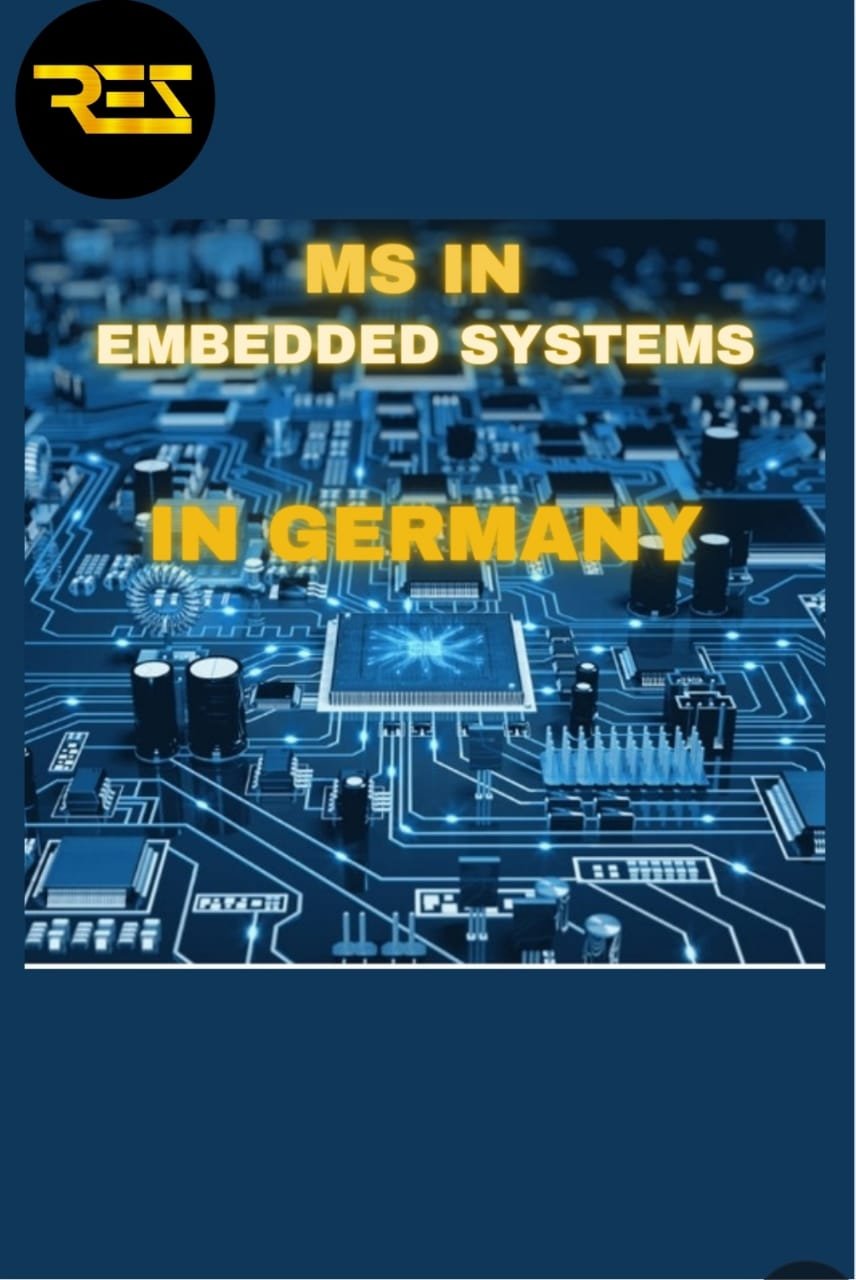 What do modern sewing machines, music systems, GPS, household appliances like microwave ovens, dishwashers, and washing machines have in common? They all include Embedded Systems to provide better flexibility and efficiency. Suppose, you wish to gain knowledge in the same, what better place than Germany can you think of? In fact, there are many reputed universities that offer MS in Embedded Systems in Germany.
To name a few:
General Entry requirements to get admissions from these Universities:
Bachelor's degree from a German university or equivalent qualification from a foreign university.
Must have studied Physics, Mathematics, Informatics, VHDL, Verilog, Embedded Systems, Signal Processing, Systems Theory, & Information Theory
Proof of English Proficiency – IELTS – 6.5+ / TOEFL – 90+
GRE (highly recommended, although not mandatory) – 305+
Personal Statement / Letter of intent / Statement of purpose
Updated CV
2 recommendation letters from the professors who taught you academically
A certified academic record – Transcript
German Language proficiency – A1 at the time of applications for English taught programs. B2 at the time of applications for German taught programs.
Work experience in the relevant field is a bonus (if you have one).
Possible occupation fields after MS in Embedded System in Germany:
Automotive Industry
Bio & Medical Engineering
Automation
Energy
Communication
Security
Multimedia
Meet Priya, who wanted to pursue MS In Embedded System in Germany
Priya wanted to pursue her higher education in a country where the tuition fee does not discourage her to follow her dream. As she found out that most of the English-speaking countries could burn a hole in her parents' pocket. Consequently, she decided to apply to only those universities that offer excellent coursework with affordable tuition fees.
She thinks, if a student pursues higher education without financial burden, s/he performs better academically and gains knowledge peacefully. To illustrate, she spoke of how his cousin struggled to manage his education in the USA with an education loan. Thus, she was clear of not repeating the mistake, instead choose a country that can help her fill the gap. As a result, Germany looked irresistible.
Firstly, she started searching universities that offer MS in Embedded System in Germany. Secondly, she made the above-mentioned list and looked at each of the entry requirements. Finally, she applied to only 4 universities. Out of these, she got admissions from three universities. Surprisingly, she was overwhelmed with the admissions. In the end, she proceeded with TU Chemnitz.
Fast forward 2 years, she found a job in Berlin and was super happy with her job. As a matter of fact, she could easily look after her living expenses. She started saving about 10 Lakhs annually with the salary that she received and built a good corpus. Also, with 25% year-on-year annual growth in salary, she was happy with the work and pay scale. Although the pay scale did not blow our minds, she was free from financial burden. After all, she gained international education and work experience that could not have been possible back in India.
So, If you are like Priya you must contact us to help you in making your dream a reality.
Also, you could read interesting articles here on our website to gain general information on studying in Germany.
FREQUENTLY ASKED QUESTIONS
How good is MS in Embedded Systems in Germany?
It is one of the best courses an electronics/ communication graduate can think of pursuing. In fact, the German Education System is a very robust one. Almost all the universities in Germany offer if not alike at least similar education. Moreover, the Indian students who studied in German universities never complained of the quality of education. Additionally, the research opportunities at technical universities are at par with American Universities.
What are the Job Opportunities after completing MS in Embedded Systems in Germany for Indians?
Honestly, the job opportunities for Embedded System engineers are generally good. Although, you would see mostly openings for Embedded software engineers than Embedded hardware engineers on job portals. Certainly, you will find a job after completing your post-graduation course. However, you need to prove that you are better than the others. Survival of the fittest prevails everywhere, thus, you gotta prove your worth and grab that job that awaits you.
What is better, to work in a company after my UG in Electronics Engineering or pursuing MS in Embedded Systems?
Embedded Systems is a core engineering field. Today more than 70% of the things you see around is based on Embedded Systems. As a matter of fact, unlike the IT industry, this industry requires engineers who can develop technologies that can bring revolution. Ironically, the starting salaries of engineers in this field may not seem lucrative but after some years of experience, you will be happy. You can be sure that your salary over the period will not become linear and sluggish, in fact, it would go the other way round.
How tough is MS In Embedded Systems in Germany?
Pursuing MS In Germany is a test of endurance and persistence. Therefore, you must be mentally and physically prepared to pursue MS. As far as Embedded Systems is concerned, you need to be thorough with your preparations and study schedule. Not only is it going to be challenging but also it will push you to strive hard to learn all concepts. Firstly, the professors are friendly and they clear your doubts. So, you can always reach out to these professors to reduce your burden. Secondly, you could take the help of peers, working with friends will help you get over it easily. Lastly, you can take the help of the internet, however, while doing assignments you need to be careful of avoiding plagiarism.
Contact Us
Reknown Edu Services®️, BHIVE Workspace, 4th Floor, No.467/468 Situated on, Shri Krishna Temple Rd, IndiraNagar 1st Stage, Bengaluru, Karnataka - 560038 Distance from Metro: 500 meters