Masters in Luxury Brand Management, Luxury and Fashion Management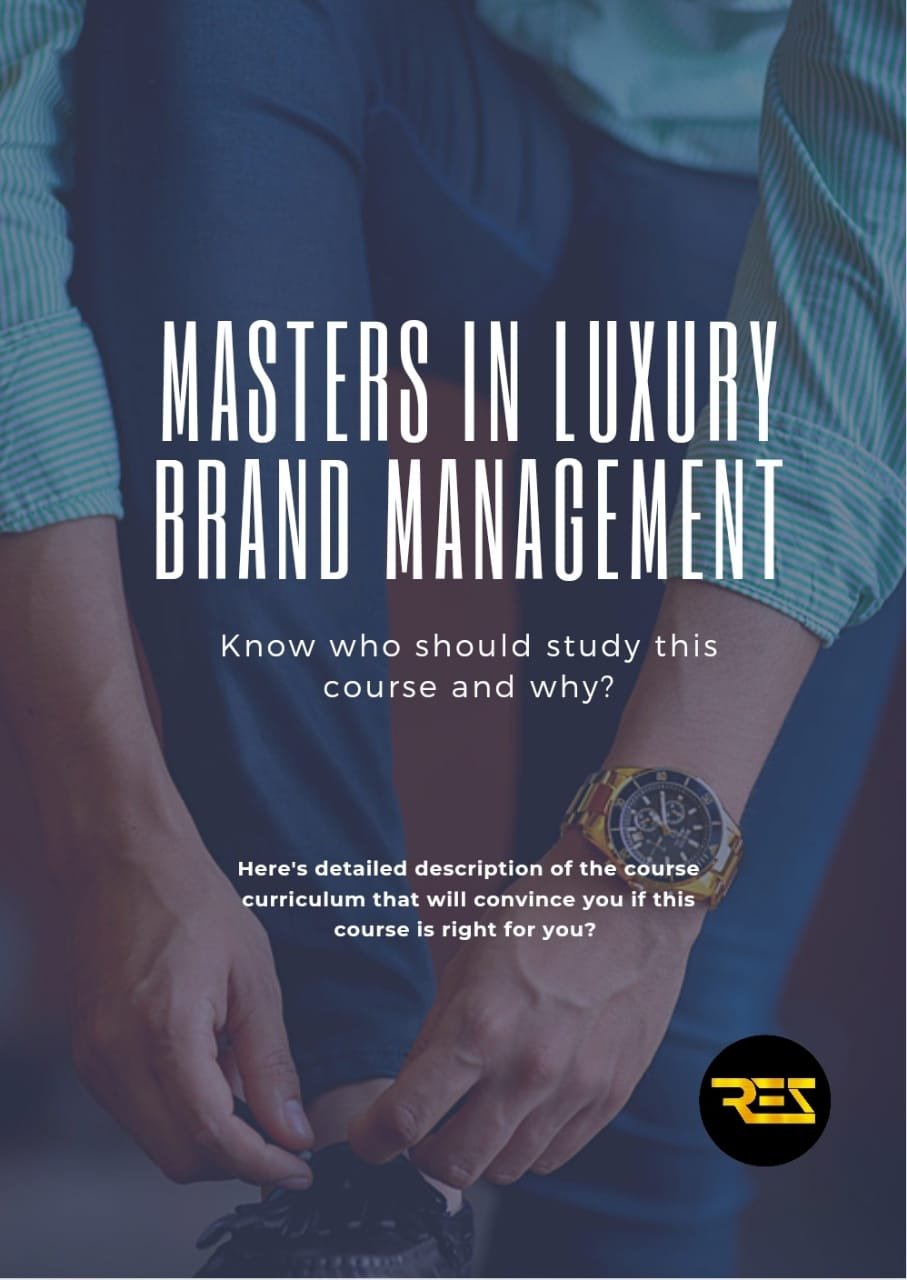 What will you learn if you enroll for a Master's in Luxury Brand Management, Luxury and Fashion Management?
MSc in Luxury and Fashion Management, you will learn about:
Global Luxury and Fashion
Design and Innovation
Fashion & Brand Management
Retail and Luxury
Analytics in the Current Context
Growth Strategies
Value Management and Marketing
Sustainable Value creation
How to Build a Brand
Advanced Advertising Strategies
Advanced Service Management
Consumer Trends and their Impact (@ SKEMA Business School).
MSc in International Luxury & Brand Management, you will learn about:
International Consumer Behavior
Brand management
Marketing of New products
Luxury Marketing Strategy
Luxury Retail & Ecommerce
Corporate Design in Luxury Industry
Marketing Communication
Marketing research
International Strategy (@ RENNES Business School).
Global MBA & MSc in Luxury Brand Management (Dual Specialization) you will learn about:
Leadership training
Negotiations
Advanced MS Excel
Marketing management
Strategic Management
Financial Management
Economics
Operations Management
Digital Disruption
Global Luxury Economy
Marketing for Luxury
Luxury Consumption and Consumer Behavior
Strategic Management of Luxury Brands
Power BI
Sustainability in Luxury
Luxury Brand management
Luxury Distribution & Retail Management
Design Management
Counterfeit in Luxury
Art and Culture Management (@ Essec Business School).
---
Who should study Master's in Brand Management, luxury, and Fashion Management?
Practically, any passionate or knowledge seeker can pursue this course. However, this course is ideal for
One who wishes to enter the Luxury and International Branding industry.
If you are already in Apparel, Jewelry, Cosmetics, and Pharmaceuticals manufacturing industry.
One who wishes to expand his/her business to international markets.
If you wish to globalize your brand.
One who wishes to work in the above-mentioned industries.
---
Why study Masters in Luxury Brand Management?
There are various reasons to pursue a master's course. They are:
Wish to create, preserve, or reshape the identity of your brand.
Willing to win the battle going on in the minds of your consumers (battle- Brand preference).
Want to get insights from the industry's brand leaders in a practical manner.
Wish to learn the art and science of marketing your product in international markets.
Want to serve in the luxury brands industry.
---
Where to study Master's in Brand Management?
There are many business schools that can offer very competitive programs in France. We can help you find a right-fit school for you. Do not merely go by the ranking of the school instead take professional advice before you apply. We can also help you with complete admission scholarships and the visa process.
---
See what our students have told about our admission guidance – Testimonials
---
Write us an email to express your interest – info@reknownedu.com
---
Call us immediately to seek further support.
---
Case Study:
Once a student named Rohit walked into our office. He was just an above-average student academically. At first, he sounded very concerned about his career. But, later we found he had his own business that he was running for two years. Specifically, the garments business!
When he started his business he had no support from his family. But, now that he is successful in running it and consistently makes a profit every year. His family supports him completely. In fact, they suggested him to think of pursuing higher education. So that he could expand his business further. He confessed he wants to pursue a course that helps him in expanding his business. He had created a brand but was not successful in creating enough awareness. Therefore, he wanted to gain knowledge to position his brand in the market aggressively.
After listening to his story, We suggested to him a course that will solve his problem for sure. He was excited listening about the course curriculum. He said, he would discuss the same with his parents and get back to us.
The next morning, he phoned us and expressed his intent. We submitted his application to 4 French Business schools. Finally, he received acceptance letters from 3 Business schools. Truly, he was happy! Later, we initiated his scholarship process. Although he did not receive a significant amount of scholarship, he was happy. Then, we applied for his Visa and he was successful in that too.
In the end, when his passport had the visa stamping, his joy was evident in his tears.
---
So, If you are like Rohit, contact us today!
We love helping students interested in pursuing higher education. Additionally, we offer career counseling. So, even if you do not wish to study abroad but want to know what is good for you. Do not hesitate in reaching out to us.
Feel free to share with your loved ones. In fact even on Social media. Perhaps, you will help someone in need. Then why not?
---