Higher Education in Australia
Higher Education in Australia
Australia is one of the leading destinations for individuals who wish to pursue their higher studies. It's multifaceted culture and the number of universities coupled with their top facilities convince students choose Australia. Higher education in Australia is at par with many other english speaking nations. 
Australia has gained popularity through its list of prestigious universities and their curriculum. These aspects have not only made Australia rank 3rd most famous destination but also a competitive one. It has 7 universities that are ranked in the top 100 best universities of the world. Thus getting a degree from these universities will have a great advantage with respect to career progress.
Most of the cities in Australia are known as tourist attractions and the local people are friendly too. The standard of living is quite competitive as compared to other countries. Australia has 7 of the most student friendly cities. Thus, students concerned about their safety, need not worry at all. Australia is now ranked 8th with respect to its University system's safety index.
Students pursuing higher education in Australia are given internship opportunities. And, these internships are from the relevant industry. Interestingly, the government helps students in getting scholarship. Hence, studying in Australia, gives students opportunities that they might not get in any other country.
EDUCATION SYSTEM IN AUSTRALIA
Pre – schooling in Australia starts from the age of 3 to 5 years, though it is not mandatory. Children attend primary schools from kinder garden till they reach their 6th grade, and the total duration is 8 years. Thereafter, they move on to the next level i.e. secondary education, which starts from 7th grade till 10th grade. 11th and 12th grades are labeled as high school years and lasts for 2 years. Next, they have a system of Tertiary education that segregates into higher education and vocational education and training. This offers training courses from certificate level through to advanced diploma. Vocational education is based on occupation or employment.
HOW TO APPLY TO UNIVERSITIES FOR HIGHER EDUCATION IN AUSTRALIA?
Candidates who wish to apply for Australian universities are advised to do so online. The essential documents required to be sent along with the application are:
Resume
SOP (Statement of Purpose)
Letter of Recommendations
Transcripts / CMM / Degree certificate
12th Certificate
10th certificate
IELTS/TOEFL score card
Bank statement (if applicable)
Affidavit of Support (if applicable)
1 passport size Photograph
Passport 1st & last page copy
Experience letter (If applicable).
STUDENT LIFE IN AUSTRALIA FOR THEIR HIGHER EDUCATION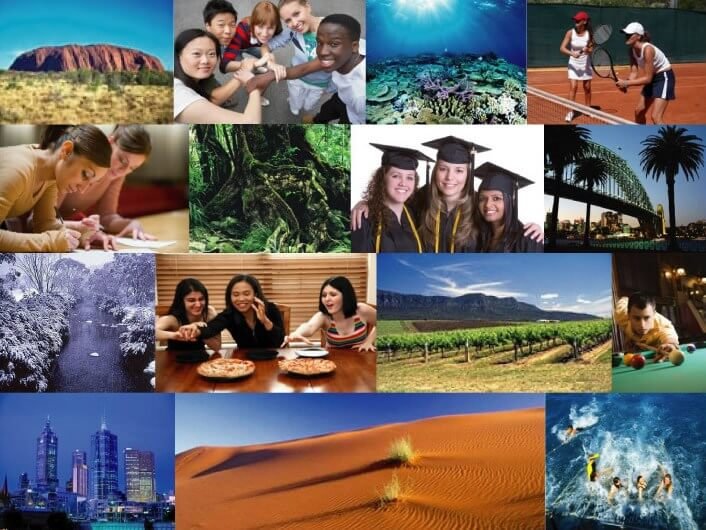 As already mentioned, Australia is the most happening place to be in for a student with a sound environment and good living condition. The cost of living in Australia is around AUD 14000 to 18000.
Finding a part time job is easy here and students can work part time for an estimated 20 hours per week.
STUDENT VISAS FOR HIGHER EDUCATION IN AUSTRALIA
The Government of Australia has issued temporary visa for International students (Subclass 573) – Assessment Level 1. Subclass 573 visas are given to those international students who are applying for the subjects mentioned below:
Bachelor degree
Associate degree
Graduate certificate
Graduate diploma
Masters by coursework
Higher Education diploma
Higher Education advanced diploma.
AUSTRALIAN STUDENT VISA APPLICATION PROCEDURE
Firstly, an individual should have completed 12th or equivalent qualification (based on the requirement of the course applied for). You must provide authentic documents for the same. Secondly, students should be enrolled in an institution. Thirdly, they must report their Language assessment test scores. Also, students must prove their financial stability. Lastly, these students must have health and travel insurance before flying to Australia. For example, Overseas Student Health Cover (OSHC) provides health insurance, medical and hospital insurance. Whereas, companies like Bajaj Allianz or Religare provide travel insurance that are valid. 
AUSTRALIAN STUDENT VISA OFFICES IN INDIA
Chennai. Mumbai, New Delhi.
WE OFFER CONSULTANCY SERVICES FOR ASPIRANTS WHO WANT TO DO MS IN AUSTRALIA
Imagine, you realize in your final year of your under graduation that you do not want to stop at UG. You want to pursue PG after your course completes. So, you reach out to your parents and say you want to study abroad. Naturally, your parents would have many questions and you will have them too. Because, the thought of studying further just occurred. So, you start researching about it on internet, talk to your friends, seniors, cousins or even relatives. You get good insights and you make a note of all of them. But , you are more confused than ever before. Therefore, you try and seek professional help.
This is the time you must contact Reknown Edu Services® for their honest and unbiased guidance. For instance, you just want to validate your idea whether it is a good one or a bad one. In fact, you would get information just not about the universities but also how to apply and get admissions. Also, if you just want to check you are on right track because you want to do it by yourself. Perhaps, you just want to get your documents reviewed. Or, you Just seek visa assistance and not the complete process.
Reknown Edu Services® will make sure that it solves your real problem. So, what are you waiting for? Contact Reknown Edu Services® now!!
Want to see some reviews?