French classes in Rajajinagar
FRENCH CLASSES IN RAJAJINAGAR
ARE YOU SEARCHING FOR THE BEST FRENCH CLASSES IN RAJAJINAGAR (BANGALORE) ?
"Language is the road map of a culture. It tells you where its people come from and where they are going." ‒Rita Mae Brown
French language has always intrigued individuals who wish to learn a new language apart from their own mother tongue. Many students assume that it would be hard to learn the language due to the tough pronunciations. Some have very little idea of the scope that the language provides in their career. We at REKNOWN EDU SERVICES provides the Best French classes in Rajajinagar, also French classes in Bangalore
Check out our FRENCH CLASSES IN RAJAJINAGAR

REVIEWS

on FACEBOOK | JUST DIAL | SULEKHA
CONTACT US FOR FRENCH CLASSES IN RAJAJINAGAR
With the technological advancements that we have observed from the past few years, it has become really easy to learn a new language. Many individuals who wish to learn French have been able to fulfil their dreams through the various mediums that have evolved.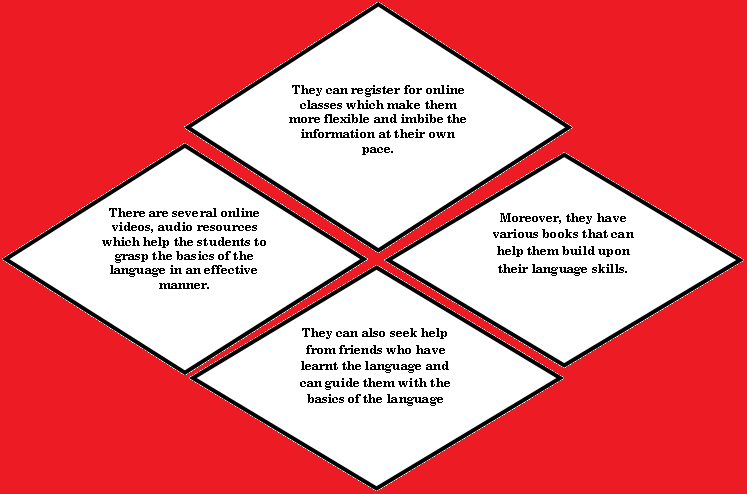 Scholars who really want to get a first hand view as well as a detailed explanation of the intricacies involved in the language are advised to seek professional help. Nothing can be more motivating than mingling with other language aspirants and being taught by a knowledgeable trainer who understands your needs.
Check out our FRENCH CLASSES IN RAJAJINAGAR

REVIEWS

on FACEBOOK | JUST DIAL | SULEKHA
A TRUE EXAMPLE OF HOW AN INDIVIDUAL WAS ABLE TO IMBIBE THE NEW LANGUAGE BY HER SHEER PASSION FOR THE DIALECT.
Shubha was intrigued by the reviews that she saw on Google written by our previous students at REKNOWN EDU SERVICES, Rajajinagar, Bangalore. Check out our FRENCH CLASSES IN RAJAJINAGAR REVIEWS on FACEBOOK | JUST DIAL | SULEKHA. She came to our Institution with the hope of learning French which she was so passionate about. Thus, after experiencing our demo session she made up her mind to continue the classes with us.
As she was an individual who was full of zest and zeal to go in depth into the Language, our trainer made it sure that she was given all the possible opportunities to learn the dialect and fine tune her communication skills in it.
She was informed of the three different levels that are provided in the language
We also helped her understand what she was about to study, the topics that would be taken and the grammar portions which would be covered in the specific level etc.
By the detailed information provided, she was clear on what to expect and what all skill sets she would be imbibing during the course. She was very passionate about the language and was eager to gain all the information provided.
The trainer made sure that the basics such as the alphabets, numbers, basic French phrases, rules pertaining to pronouncing words in French were explained in detailed as they form as the base for any language and the rest of the skills are built around it.
The book prescribed catered to the student's needs and Shubha started to feel comfortable with the new language with each passing day. She was able to read, write basic sentences and was able to comprehend basic sentences through an audio presentation in just one and a half weeks into the class.
The trainer provided her with various handouts with regard to the grammar topics or vocabulary that were important for the student's regular reference.
The classes were discussion oriented with a lot of information being forwarded to the student.
The practice exercises helped the students to review their progress from time to time.
As a whole, the experience for Shubha was truly enriching and she gained a lot more insight into the language than she had initially expected. Her progress was gratifying for us at REKNOWN EDU SERVICES, in Providing the Best French classes in Rajajinagar, Bangalore.                                                                                                   
To sum up, REKNOWN EDU SERVICES has now made a mark for itself as the Best French classes in Rajajinagar. It will definitely act as a platform for individuals who aspire to learn French and further develop themselves in both their personal as well as professional spheres.
Check out our FRENCH CLASSES IN RAJAJINAGAR

REVIEWS

on FACEBOOK | JUST DIAL | SULEKHA
Summary
Reviewer
Review Date
Reviewed Item
French Classes in Rajajinagar
Author Rating